MCC APPROVED CCTV CAMERA SECURITY SYSTEM INSTALLATION SERVICES IN MUSSAFAH, ABU DHABI, UAE
Call at:025559895
+971564401191.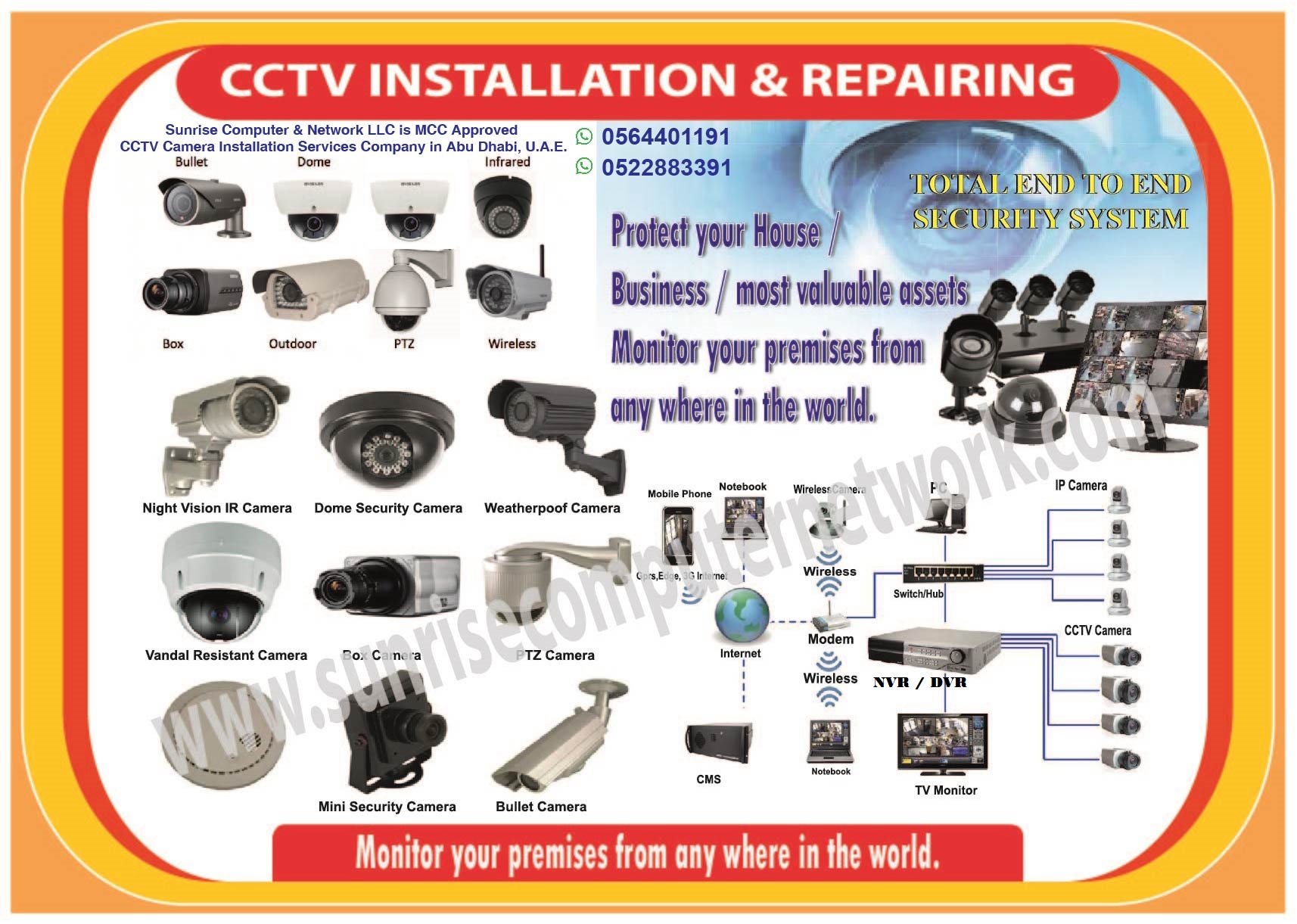 Sunrise Computer & Network LLC is also into Installation, maintenance and sales of CCTV security systems, Camera, DVR, PTZ Camera, WDR camera, IP Camera, CCTV control room and CCTV security monitoring room in Abu Dhabi and Dubai. We provide Infrastructure Solutions for CCTV systems, Cable running, Cable conduiting. With large scale development in Abu Dhabi and Dubai, the need for CCTV and other security and surveillance solutions and services has risen greatly, but with a lack of experienced solution providers and equipment specialists, many organizations are left with little or no choice. Sunrise Computers are proud to offer our services in the Middle East with specific focus on the UAE.
Remote CCTV Surveillance
Remote access CCTV allows you to watch CCTV cameras from anywhere. Control live and recorded video and respond to alarms and actions; most suited for Residence, Offices, Shops and establishments. Sunrise Computer & Network LLC provide domestic to large scale industrial solutions covering single to 1000's of cameras deployed up to a global scale. Some solutions allow watching video on monitors to PC's and mobile phones
Supply & Installation
We supply CCTV to a very large market from small domestic products to industrial and military grade security equipment. With access to hundreds of manufacturers, we can deliver the right solution for your needs. We can design and implement large scale systems including building security and retail management systems designed to protect assets and profits as well as protecting the health and safety of the public. Contact us for more information or read our Loss Prevention page for more details and demos.